---
Eyelash Extensions
EXPERIENCE WHAT AN AMAZING LOOK IS ALL ABOUT!
---
Enhance the look and feel of your natural eyelashes with our semi-permanent eyelash extensions. Our unique technique and styles are customized to leave you looking, well, just amazing!
Eyelash Extensions are individual strands of synthetic fibers made to replicate a natural eyelash. Eyelash extensions are used to enhance the length, fullness, and thickness of natural eyelashes. The single strands are applied to each individual eyelash, one by one leaving you with the most natural-looking lash line.
We use safe, professional grade adhesive and our lashes are lightweight, providing you with comfort and a natural-looking way to lengthen and thicken your lash line.
Eyelash extensions are waterproof and give the appearance of having mascara on without the messy clumps and smudging of makeup. Simply put, eyelash extensions are the one beauty treatment that will give you thicker, longer, darker and more glamorous lashes than your natural lashes could ever be! All this without spending hours at the mirror curling, applying mascara or gluing on false eyelashes. It really is that easy! Once you've tried eyelash extensions, you'll begin to wonder why you ever went without them.
NOT QUITE READY FOR EYELASH EXTENSIONS? – I'M A "KEEP IT NATURAL" TYPE OF GIRL –
Well, We can help with that too!
Our

LASH LIFT & TINT
  is a semi-permanent (4-6 weeks) curling treatment that gives your natural lashes ⎯and your eyes⎯a more youthful and lifted look.  They're perfect for those who want celebrity glamour but are not quite ready for eyelash extensions.
And no need to worry about choosing the perfect look!  
Our lash stylists will work with you to give you the shape, color and look that's right for you.
 We will customize the look that suits you.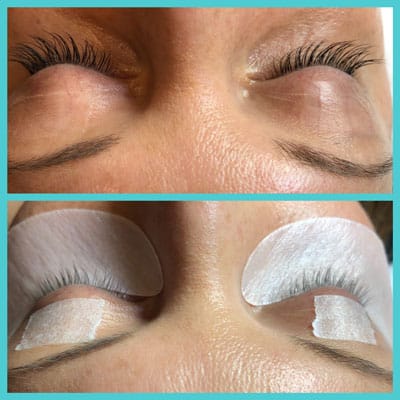 What happens if I choose to have my eyelash extensions removed?
We do offer a service to have the extensions removed involving a short thirty-minute appointment in which we apply a gel remover. The gel remover is applied on top of the extensions without touching the skin and allowed to sit for 10 minutes. Once the adhesive is dissolved the extensions are gently wiped away with lint free applicators exposing the natural lashes.